Good news from Shelf Awareness:
Compass Books Rebooked at SFO's Terminal 3
Books Inc. scores another hit for independent bookstores!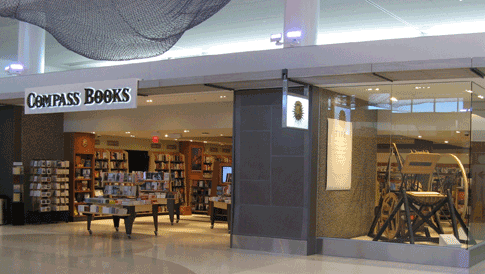 Books Inc. has won the bidding process for a store in the renovated Terminal 3 at San Francisco Airport. The company will begin construction on the Compass Books store in July and open in time for the Terminal's grand opening on November 15. United is in process of taking over all of Terminal 3 and rebuilding it. Books Inc.'s longtime store in the Terminal was closed, and during construction, it's had a 350-square-foot temporary store. Books Inc. also has a Compass Books store in Terminal 2.
Owner Michael Tucker said the Terminal 3 store "is a pretty big deal for us." The 2,500-square-foot location will be the only bookstore in the Terminal, which will have some 9.5 emplanements (or passengers boarding or departing planes) a year. Each of those passengers, Tucker said, spends on average 75 cents to a dollar at bookstores. The location of the store should be advantageous: it's the only retail location across from where passengers come out into the terminal after going through security, the so-called "recomposure area."
In other good news for Books Inc. (which came the same day the bookstore learned it had won the bidding process for the airport store), the company received a building permit for its new location on Shattuck Avenue in Berkeley, where it will move its Fourth Street store. Books Inc. submitted for the permit in December and had hoped to open last February. Construction is starting.